Amelia Island, Florida
When Jean Ribault and his group of Huguenots arrived on the shores of Amelia Island in 1562, they were greeted by the Timucuan Indians, an ancient tribe given to elaborate hairstyles and red, yellow, black and blue tattoos.
That was just the beginning of Amelia Island's colorful history. A bit more than 18 square miles, north of Jacksonville and just south of the Georgia border,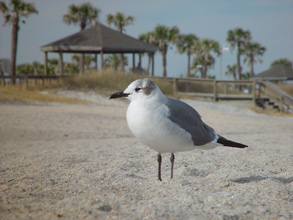 eight different flags eventually would fly over the island.
Fort Caroline became Amelia Island's first permanent settlement in 1564, but, within a year, the Spanish massacred the settlers. A Spanish mission, Santa Maria, was constructed to hold on to the territory and to introduce Christianity to the natives.
The British, wishing to maintain their empire to the north, began to eye northern Florida, which was ideally suited for international trade. In 1736, the island was named Amelia, in honor of King George II's daughter, but did not come completely under England's control until the Treaty of Paris in 1763.
Colonial forces invaded Amelia Island in 1777, and, when the American Revolution came to a close, a second Treaty of Paris gave control of the island back to the Spanish. By 1807, with the fairly new town of Fernandina Beach already a haven for pirates and a variety of other scoundrels, President James Madison, with the support of Americans who lived in the area, claimed Amelia Island for the United States. The island changed hands several times in the ensuing years, finally becoming a U.S. Territory in 1821. Another flag was raised - over Fort Clinch - during the Civil War.
The Victorian era was one of prosperity until Henry Flagler took his railroad farther south, causing the local economy to wither. It seemed like the end, but the locals turned to the bounty of the sea, giving birth to the modern shrimping industry.
Today, Amelia Island is a perfect blend of past and present. Delightful Victorian architecture is the hallmark of the downtown Historic District, tucked between the Intracoastal Waterway to the west and the pristine Atlantic beaches to the east. City people will find all they need on Amelia Island and nearby Jacksonville, but nature lovers will truly be in their element, as they discover miles of beaches and carefully preserved parks.
View Larger Map