St. Simons Island, Georgia
Steeped in history, St. Simons Island is the second largest island on the Georgia coast. Crossing over the Marshes of Glynn, made famous by Georgia poet Sidney Lanier, you'll feel as though you are driving into history, past gnarled oak trees that line roads leading to historic sites and beautiful sandy beaches.
Spanish explorers seeking gold visited the island more than 400 years ago, finding instead on today's Golden Isles breathtaking beauty and a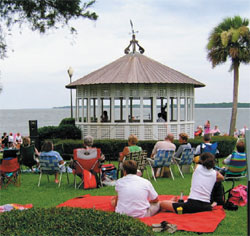 temperate climate. But the peace of the Mocama mission was not to last. In 1702, James Moore of South Carolina led a sea and land attack that destroyed the area's Spanish mission system.
During the early Colonial period, between 1736 and 1748, Gen. James Oglethorpe built Fort Frederica to serve as the military headquarters of the colony and keep the Spanish forces at bay. On July 7, 1742, Oglethorpe's troops ambushed the Spanish as they marched single file through the marsh, routing them in about an hour. The Battle of Bloody Marsh marked the end of Spanish influence on "debatable land," the area between British South Carolina and Spanish Florida.
At the Fort Frederica National Monument, the archeological remains of the fort and the town remain a silent sentinel to the past.
Steeped in history, St. Simons Island is the second largest island on the Georgia coast.
In 1808, the town set aside 100 acres near the fort for a church. Christ Church, Frederica was completed in 1820 and was nearly destroyed by Union troops during the Civil War.
Today, St. Simons Island is a charming seaside town of about 13,000, a number that nearly doubles during the summer months. In addition to visiting local landmarks such as Fort Frederica and the St. Simons Lighthouse, the island offers much to do. Neptune Park, located in the heart of the island, near the Pier and the St. Simons Lighthouse, hosts special events and other activities, and there are many fine restaurants and boutiques in the area.
And, if you tire of all that St. Simons Island offers, the port city of Brunswick, Sea Island and Jekyll Island all provide a different take on the Golden Isles of Georgia.
View Larger Map