Cocoa Beach, FL
If ever there was a town that offered everything to everybody, it must be Cocoa Beach. While it might not have mountains or distinct seasons, it offers up the best of Florida.
Situated in the middle of Florida's Atlantic coast, Cocoa Beach caters to the young and the young at heart. It's all there: sun-drenched beaches, the historic pier, championship golf courses, fine dining and shopping, and, every once in a while, the magnificent sight of the space shuttle launching from Cape Canaveral.
Just six miles long and barely a mile wide, Cocoa Beach is on a barrier island bounded by the Atlantic to the east and the Banana River Lagoon to the west. It's a hot surfing spot and the home of the world's largest surf shop, but waves aren't the only lure. Located where two climatic zones- the subtropic and temperate- meet, Cocoa Beach attracts wildlife that is indigenous to both, in addition to the coastal and migratory species you might expect to see.
This location, so hospitable to wildlife, is a natural playground for humans, too. It's perfect for swimming in the ocean, kayaking the Banana River or just watching dolphins leaping out of the water.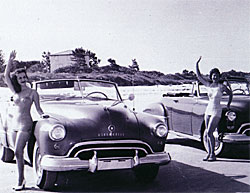 In spite of being a major tourist destination- the population swells to 30,000 during the peak season and another 2.4 million people are "day visitors"- Cocoa Beach is home to almost13,000 residents who care deeply about their tropical paradise. As space exploration advanced, the town has grown from the small beach community it was in the 1920s to a vibrant yet laid-back town. The population is a blend of locals, retirees and vacationers.
While there are more than 2,400 single-family homes and 5,500 condominiums, only about 40 percent are year-round residences. The rest are second homes or rental properties.
For permanent residents, life is good in Cocoa Beach. There are plenty of fine shops and boutiques- including the world-famous Ron Jon Surf Shop- and dining options, from fast food to upscale fare. A 27-hole golf course lures duffers to the Cocoa Beach Country Club, which is open to the public and includes an Olympic-sized city pool and tennis complex. But Cocoa Beach's most important asset is the friendly locals, who are happy to share their place in the sun.
View Larger Map