Peachtree City, Georgia
The master-planned town of Peachtree City was designed in the 1950s as a quiet alternative to the growing metropolis of Atlanta, 25 miles to the north. Now it is known for natural wooded areas, restaurants, parks and recreation facilities - all connected by an integrated system of multi-use paths.
Once within the city limits, residents need not use their automobiles until it's time to leave. A 90-mile-long network of paved pathways links retail centers, residential communities and public spaces. Pedestrians, cyclists and golf cart drivers meander through shady woods and over rolling hills. In 2010, there were approximately 10,000 registered golf carts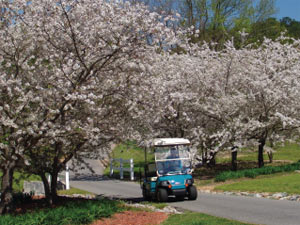 for the 12,726 households.
Near enough to Atlanta to take advantage of its cultural and entertainment offerings, Peachtree City seems a world away. Its five villages - Aberdeen, Braelinn, Glenloch, Kedron and Wilksmoor - bear the names of Scottish hamlets, recalling the heritage of 18th-century settlers.
Outdoor enthusiasts have myriad activities from which to choose. There are paths to explore on foot or bicycle, lakes for fishing and boating, and a temperate climate conducive to gardening most of the year. The Flat Creek boardwalk leads into the middle of the 500-acre Flat Creek Nature Area, where visitors may catch a glimpse of herons, beavers and other native wildlife in this tranquil setting.
With all those golf carts roaming about, some are bound to be destined for one of Peachtree City's four golf courses, which provide plenty of other recreational and social distractions.
Beyond golf and other outdoor amenities, there is always something to do in Peachtree City: Dine at one of the many restaurants; relax, read or surf the Internet at the library; find a bargain at a community yard sale; or enjoy an outdoor concert at "The Fred," the Frederick Brown Jr. Amphitheater.
Peachtree City is home to a yearround calendar of planned events, including the biggest Fourth of July celebration south of Atlanta, the Great Georgia Air Show, the Shakerag Arts & Crafts Festival and the Fayette Master Gardeners Annual Garden Tour.
For those seeking an inland community with a moderate climate, natural beauty and the benefits of a large metropolitan area, Peachtree City is the community of choice. No wonder it continually lands on the Money Magazine list of Best Places to Live.
View Larger Map