Sunset Beach, North Carolina
Located 44 miles southwest of Wilmington, Sunset Beach, North Carolina, remains one of the last working beach communities in the area. The majority of the town's residents still make their living by fishing, shrimping and crabbing in the fertile waters that surround the village. They also are famous for the custom, handmade fishing nets they produce and sell to people from around the world.
For many years, Sunset Beach was known only as a minor tourist destination, its wide, powder-sand beaches drawing visitors in small numbers from around North Carolina. Somehow the beauty of the town remained a secret from the rest of the world. But recently,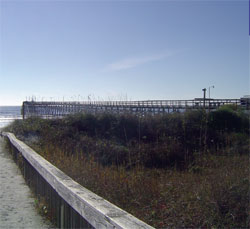 Sunset Beach has gained favor as a retirement destination. Because of its easy-going lifestyle, multitude of recreational activities and proximity to larger cities, Sunset Beach is drawing interest from across the United States.
Sunset Beach's isolation from the rest of the world is enhanced by the fact that the only access to the barrier island is across a pontoon bridge that straddles the Intracoastal Waterway and marshland. The wooden, one-lane structure, the only one of its kind still in use along the East Coast, causes traffic problems for motorists entering and leaving the island but also adds to Sunset Beach's charm and laid-back lifestyle.
A favorite activity for residents and tourists alike is a visit to Bird Island, an undeveloped barrier island, home to a large variety of wildlife and located at the west end of Sunset Beach. Many indigenous species live on the island, some of which are endangered, almost completely isolated from man. The island provides a clear window to the past, offering visitors a glimpse back into time, before the islands along the coast were lined with condominium developments and high-rise hotels.
Many quaint coastal communities and larger cities are within easy driving distance of Sunset Beach, offering world-class golf, shopping, sightseeing, fishing and dining options. Calabash, the world-famous "Seafood Capital of the World," is only five minutes away. For those seeking a bit more excitement, it takes less than an hour to drive to Myrtle Beach.
View Larger Map