Viera, Florida
Viera, Florida is rapidly creating a name for itself. And no wonder. It is a dream come true for the Duda family.
Andrew Duda and his family emigrated from Czechoslovakia to Central Florida in 1912 and operated a small celery farm.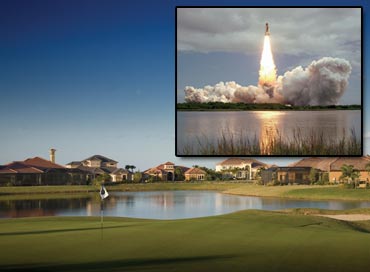 It became one of the world's largest and most respected family-owned agricultural enterprises, A. Duda & Sons, Inc.
The descendants of the Duda family's idea for a master planned community began in the early 1980s. The family has again made history through establishing The Viera Company, creating the town of Viera. It is a new dot on the map and a new home for those planning to retire to Florida.
In Slovak, Andrew Duda's native tongue, viera means 'faith.' The word was chosen specifically by the Duda family for their beautiful community because it embodies the family's heritage and evokes visions of the future. To date, the town has attracted more than 19,000 residents and will eventually encompass 22,000 acres.
Viera is located in Florida's Brevard County, a region which is also known as the Space Coast in the central portion of the state. It is home to many county government buildings and the Space Coast Stadium, home field of the Brevard County Manatees, and the spring training home of the Washington Nationals (formerly known as the Montreal Expos).
Real estate in Viera is in high demand partly because of its proximity to Orlando. The community offers a selection of exclusive and intimate neighborhoods and every aspect is designed to enhance the lives of its residents.
The town surroundings are filled with wildlife habitats, golf courses, conservation areas, lakes, miles of nature trails and recreational parks. It is truly a sportsman and nature lover's paradise.
Trees line every street and many businesses are within walking distance. Some of the best shopping in Brevard County can be found in Viera. Exceptional beaches, the Banana River and the Intracoastal Waterway are all nearby.
View Larger Map