Jekyll Island, Georgia
Jekyll Island, one of the Golden Isles near Brunswick, Georgia, qualifies to be called unique.
Unlike many island communities, where condos and homes are packed as tightly as possible, Jekyll has retained its natural beauty. By law, only 35 percent of the island can be developed, leaving nearly two thirds of Jekyll in its original, natural state. This limited development - along with limited access to Jekyll Island itself - keeps the population in check and ensures that the 10 miles of unspoiled beaches remain that way.
"Georgia's Jewel" offers much to the nature lover. The beach, of course, is ideal for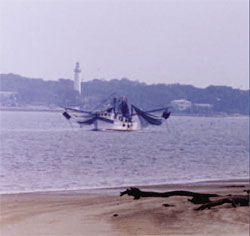 walking, sunning and shell collecting, and you might even catch a glimpse of island wildlife such as deer bounding through the wooded dunes. Bird-watchers also are in for a treat; in addition to the local population, Jekyll Island is a resting spot for many migratory species along the Atlantic Flyway. In fact, the Island has been designated an "Important Birding Area" by the Georgia Audubon Society.
While cars are permitted, many residents and visitors find that the best way to enjoy the island is on horseback or along more than 20 miles of paved bike paths. Situated between the Atlantic Ocean and the Intracoastal Waterway, Jekyll Island offers a wide variety of water sports and activities, including kayaking, canoeing, fishing and boating.
Jekyll has retained its natural beauty ... by law, only 35 percent of the island can be developed...
As a natural habitat, Jekyll Island - like many island communities on the Southeast coast - is protective of the area's sea turtles. The $2 million Georgia Sea Turtle Center, located in the historic 1903 Power Plant Building, was scheduled to open in June 2007.
Historic sites abound on the island but the most impressive is the Jekyll Island Historic District. In 1886, the island became a winter retreat for some of America's wealthiest families, who built elegant "cottages" along the river as part of what was called The Millionaires Club. Today, most of those homes have been restored through the efforts of the Historic Preservation Department, a division of the Jekyll Island Museum. The cottages, the Jekyll Island Club Hotel and many boutiques make up the Historic District.
For decades, only the wealthy enjoyed the natural beauty of Jekyll Island. Now it is your turn.
View Larger Map