Chapel Hill, North Carolina
Chapel Hill was created primarily around and to serve the University of North Carolina,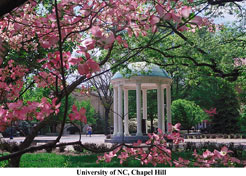 the oldest state-supported university in the United States. Today, it remains a diverse university town with a varied population ranging from university students, faculty and staff to retirees from all over. Although nicknamed the Southern Part of Heaven, the real name derives from the Church of England New Hope Chapel. It was first given the name of New Hope Chapel Hill but was later shortened. The Church stood in the 1700s where the Carolina Inn stands today.
Since the University of Chapel Hill influences most of the residents' lives, education has become a top priority. As a result, Chapel Hill is widely recognized for the quality of its public school system. Not only is education key in the lives of the town residents, but art and music enrich their lives as well. A European art collection of more than 15,000 objects accents the Ackland Art Museum.
In addition, Chapel Hill offers a vibrant music scene. In fact, many music artists' careers began there. Tar Heel sports are also major events for Chapel Hill. More than 26 sports teams are housed under the roofs of Carmichael Auditorium and the Dean E. Smith Center complexes. To prove their support for Tar Heel sports, one fire engine from each fire station in Chapel Hill is painted Carolina Blue instead of the traditional fire engine red.
Chapel Hill was awarded the title of the Best College Town in America by Sports Illustrated.
Those who love the outdoors and nature can slow down and relax in one of the many gardens or parks that add to Chapel Hill's serene mood. A stroll down Franklin Street, named for Benjamin Franklin, can be quite an exciting experience. The heart of the town, Franklin Street is lined with more than 300 businesses. While downtown, take a few moments to enjoy a cup of coffee from one of the oldest original restaurants in the area, Franklin Street's Carolina Coffee Shop, which began life in 1922 as the Carolina Confectionary.
Sports Illustrated gave Chapel Hill the title of the Best College Town in America, and the people of Chapel Hill applaud the truth of that statement. The college town gives off thrilling excitement as well as an excellent place for families to live and play.
View Larger Map