Tybee Island, Georgia
Tybee Island is a laid-back beach town, an unhurried place that drifts along at an unhurried pace. Residents of nearby Savannah, just 18 miles away, have long taken advantage of the sun, surf and sand along its three-mile-long beach, and Tybee also draws vacationers from the rest of Georgia and beyond.
The island has played a role in U.S. history. More than three decades before he took the reins of the Confederate army, Robert E. Lee helped direct the construction of nearby Fort Pulaski. Fort Screven, named for a hero of the American Revolution, was constructed later on the island.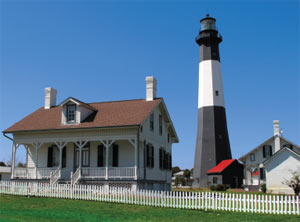 Part of it now serves as the Tybee Island Museum. At the Fort Pulaski National Monument, visitors can participate in a wide range of tours and demonstrations.
Another relic of the past is the Tybee Island Light Station. The lighthouse, located near the mouth of the Savannah River, has been guiding ships since 1736 and, at 90 feet tall, at one time was the highest structure in America. The original lighthouse has been replaced several times.
Tybee Island blossomed as a resort in the late 19th century, when the Central of Georgia Railroad reached the island. The railroad also built the Tybrisa Pavilion in 1891, attracting increasing numbers of summer tourists and hastening the construction of the hundreds of summer cottages needed to house them. Three decades later, U.S. Route 80 was finished, tying Tybee to the mainland.
Tybee means "salt" in the language of the Native Americans who once lived in the area.
Renamed Savannah Beach in the 1950s, the island later reverted to its original moniker, which means "salt" in the language of the Native Americans who once lived in the area.
The Tybrisa Pavilion burned to the ground in 1967 and was eventually replaced by the Tybee Pier and Pavilion, which opened in 1996. It is now a popular fishing spot and also is used for dances, concerts and other special events, including weddings and family reunions.
A wide range of restaurants, modern hotels and motels, luxury condos and quaint inns and cottages all have found a home on Tybee, but the island retains its laid-back feel, going so far as to host an annual Beach Bum Parade.
View Larger Map