Merritt Island, Florida
Click here to Search Florida Real Estate
Once a key player in Florida's booming citrus industry, Merritt Island joined the space race in the 1950s and 1960s, its prosperity and popularity soaring along with the rest of the Space Coast, a vibrant and growing stretch of the beautiful central Florida shoreline.
In the mid-1800s, the area was known for producing world-famous Indian River oranges and grapefruit, and pineapples also thrived in the sandy soil. The small towns that once dotted the island-Georgiana, Courtenay, Tropic, Fairyland, Orsino, Angel City, Wilson and Indianola among them-have vanished, leaving Merritt Island to be administered by Brevard County. Water and sewer service come to the island's residents from the nearby town of Cocoa.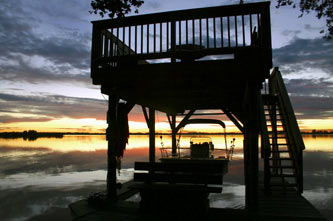 Originally named Artesia, Merritt Island is located just six miles southwest of Cape Canaveral, the heart of America's space program. Because of its central location in Brevard County, between Titusville and Melbourne, the area has developed into an economic hub, tucked between the Atlantic beaches to the east and the mainland cities of Rockledge and Cocoa to the west. There's more to do on Florida's Space Coast, however, than lounge on the beach, search for seashells and gaze at space shuttles soaring skyward. Residents and visitors enjoy golf, tennis, horseback riding, hiking, biking, surfing, water-skiing, windsurfing, snorkeling, boating, sailing and shopping. Parks provide playgrounds, picnic tables and barbecue grills, and nearby historic Cocoa Village offers tree-lined streets and a wide variety of shops, cafes and art galleries.
In addition to the Kennedy Space Center, nearby attractions include the Astronaut Hall of Fame; the American Police Hall of Fame in Titusville; and the Veterans Memorial Center, which includes a military museum.
And if you simply seek a peek at the unspoiled beauty of the Florida coast, you can visit Merritt Island National Wildlife Refuge, located adjacent to the Space Center. The 22-square-mile wetlands area, managed by the federal government, attracts more than 300 species of birds and also is home to ghost crabs, loggerhead and green sea turtles, raccoons, bobcats, alligators, manatees, dolphins, bald eagles, ospreys and even the elusive Florida panther. You can see many of them along the seven-mile-long Blackpoint Wildlife Drive.
View Larger Map