St Marys, Georgia
The waterfront city of St. Marys, Georgia, nestled on the southern tip of coastal Georgia, offers its residents and visitors stunning vistas, sightseeing adventures and a wealth of outdoor opportunities.
The St. Marys River forms part of the boundary between Florida and Georgia, and Jacksonville, the Sunshine State's largest city, is just a short drive to the south.
This Camden County town dates back to 1787, when the land apparently was confiscated from brothers of the royal governor, James Wright. State Legislator Jacob Weed acquired the property, and he and 19 others mapped out the town in 1788. Varying accounts explain how St. Marys got its name;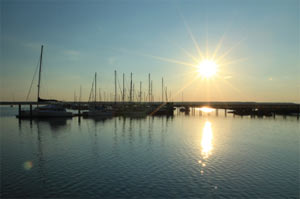 no one knows for certain, though it is a given that an act of the state Legislature established the town as St. Marys in 1792. It wasn't incorporated, however, for another decade.
Steeped in history, the small town offers tram tours that provide details of its development. Orange Hall, which is on the National Register of Historic Places, is a mix of stately architecture, Southern splendor and captivating mystery. Much more recently, Kings Bay Naval Submarine Base came to St. Marys, arriving on the scene in 1979. The Submarine Museum houses the largest collection of submarine data available to the public, and many retired military personnel have made St. Marys their permanent home.
Nature is a major attraction in St. Marys. You can wander through Howard Gilman Memorial Waterfront Park or relax on its benches as boats cruise the water nearby. Labeled "The Gateway to Cumberland Island," St. Marys hosts the Cumberland Island National Seashore Museum, which offers War of 1812 memorabilia and relates the history of Cumberland Island.
The 500-acre Crooked River State Park, also on the National Register, provides opportunities to commune with fish and wildlife native to the area. With access to the Atlantic Ocean and Intracoastal Waterway, St. Marys offers a multitude of recreational options, from a guided water taxi to sailing, deep-sea fishing and leisure boating. Biking and birding trails, golf courses and the aquatic center provide activities the entire family can enjoy.
View Larger Map