Jacksonville Beach, Florida
Jacksonville Beach has aspired to resort status since the mid-1880s, when the port of Mayport (now Naval Station Mayport) was born. Just slightly to the south, a few entrepreneurs chartered the Jacksonville and Atlantic Railway in 1883 and built 16-and-a-half miles of line from South Jacksonville to an area known as the Ruby Beach settlement.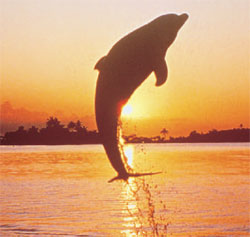 To help realize their dream, they invested in choice property along the ocean front and, within a year, were ready to market the subdivided lots. On Nov. 12, 1884, 50 or so prospects took a look and 34 lots were sold by the day's end. The total take on those lots was $7,514 - cheap by today's standards.
Ruby was named for the daughter of William and Eleanor Scull, early residents of the area. The surveyor for the railroad, Scull moved his wife and family into one of the "tent houses." They later opened a general store in a second tent house and applied for a post office in Ruby's name. Within two years, Ruby Beach was renamed Pablo Beach after a nearby river. Now reachable by railroad, the first resort hotel, Murray Hall, opened its doors for business on "The Finest Beach in the World!" Built at a cost of $150,000, the hotel boasted 192 rooms, with accommodations for up to 350 guests. Its glory was short-lived, however. In August 1890, a fire in the boiler room destroyed not only the hotel but also the railroad depot and surrounding buildings.
Jacksonville Beach is the biggest and busiest resort along Florida's northern coast
There is no shortage of hotel rooms and other accommodations along Jacksonville Beach now. The beach, of course, is a big draw, but the area is also a thriving bedroom community of the larger city of Jacksonville. It is a beautiful place, an eclectic mix of beach and elegant living.
Jacksonville Beach is the biggest and busiest resort along Florida's northern coast. More than four miles long, the beach is wide and offers plenty of room to stroll or sunbathe. Water activities abound, such as offshore racing, fishing and surfing. The Jacksonville Beach Fishing Pier is a hub of activity and a great place for people watching. The Sea Walk Pavilion offers concerts, festivals and movies under the moonlight, along with other cultural events.
Jacksonville Beach is a perfect retirement spot, a beach town located near all the conveniences and advantages of a big city.
View Larger Map