Brunswick, Georgia
Brunswick and the Golden Isles of Georgia are truly a paradise found. Unlike the Carolinas and Florida, the Georgia coast has remained largely undiscovered. Those who have visited return often. The first attraction might be the local islands: St. Simons, Jekyll and Sea Island. The beach is a lure and each island has its particular style.
Then there is Brunswick, a small town tucked amid the islands but with so much to offer. The downtown historic district features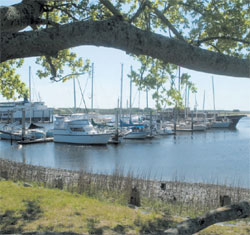 a variety of fine dining establishments along with boutiques and antiques shops.
Like Savannah, Brunswick is laid out in squares, making the town easy to navigate. One of Georgia's "Main Street" cities, community leaders are actively working to revitalize the town through Blueprint Brunswick. The distinctive Clock Tower has been restored at a cost of approximately $2 million, and, at the other end of Newcastle Street, the Ritz Theater - built in 1898 as the Grand Opera House - is a cultural center, a venue for exhibitions and concerts.
Brunswick is dotted with local landmarks and lore. There's the Lover's Oak, where it is reputed that Indian braves and maidens met under its spreading branches. Lanier's Oak is where poet Sidney Lanier was inspired to write one of his greatest works, "The Marshes of Glynn." Overlook Park is a great vantage point to admire the local landscape.
Unlike the Carolinas and Florida, the Georgia coast has remained largely undiscovered.
Another wonderful place to while away an afternoon is at Mary Ross Waterfront Park. The site of Liberty Ship Plaza, the park includes a musical playscape, pavilion and amphitheater. It is also a spot to watch the huge ocean-going freighters - Brunswick is an important port on the Georgia coast - or to board the casino cruise ship, which features dining, gaming and live entertainment.
Of course, the water surrounding Brunswick and the Golden Isles is a big enticement. The town seems to be surrounded by water, from the moment you cross the Sidney Lanier Bridge, which spans the South Brunswick River. Offshore and sport fishing beckon anglers, and boat tours, kayaking, sailboat charters and a host of other water-based activities are available.
Landlubbers find that golf is not overlooked here, with 252 holes set in lush, natural surroundings.
View Larger Map