Melbourne, FL
Click here to Search Florida Real Estate
Originally known as Crane Creek, Melbourne was a small community nestled in a natural harbor of the Indian River Lagoon at a time when barge traffic was vitally important to the prosperity of the area. It eventually became known as Melbourne, a name that was adopted because the new post office required one.
It's named for Melbourne, Australia, where Cornthwaite John Hector, the new postmaster, had spent much of his life. It is said that Hector preferred a different name, but Mrs. R. W. Goode is credited with the suggestion. After drawing straws, the name "Melbourne" was a clear winner.
To the north, a sister settlement known at Eau Gallie began to grow. Ultimately, the two communities merged, officially becoming one town in 1969. Even today, Melbourne features two distinct downtown areas.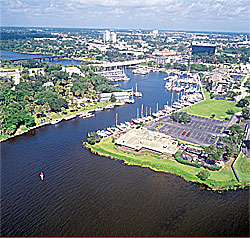 Barge traffic dwindled after the railroad roared into Melbourne in 1893, but the most dramatic change took place in 1919, when the entire downtown area was destroyed by fire.
Today, space travel is more the norm than train travel and the Space Coast itself is known as the high-tech center of the Southeast, with major technology corporations and technical schools in the area.
If it's fun you're after, you will have no problem occupying every moment. If you enjoy outdoor pursuits such as fishing or golf, you'll find abundant opportunities for both. The Brevard Zoo offers up the wild side, and Space Coast Stadium draws baseball fans to watch the Washington Nationals during Spring Training and the Brevard Manatees in the summer. Special events such as the Grant Seafood Festival and Brevard Arts Festival take place throughout the year.
When temperatures soar, however, there are plenty of things to do indoors. There are many museums and galleries; entertainment ranges from Broadway shows to local theater productions. The Brevard Symphony Orchestra and community bands present performances year-round.
View Larger Map