Ohio Couple Moves to NC Then SC
Who Needs Snow When You Have a Boat?
Mark and Susan Litrico Enjoy the Beach Life
"I couldn't start to explain all the things I love about the Lowcountry," said Mark Litrico, an Ohio native who moved to Mount Pleasant with his wife, Susan, about six years ago. Before that, the couple spent five years in Charlotte, North Carolina. They each grew up in Cleveland and prior to moving down south, lived in the Akron-Canton area for five years.
"We realized that we love the South and we would never live in Ohio again, but Charlotte just didn't click," said Susan.
"Even when we lived in Charlotte, we met a lot of folks who had relocated from Ohio," Mark added.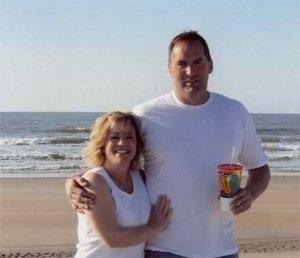 "Ohio is a wonderful place. For one thing, it has the benefit of all four seasons. I'm an avid snowboarder and snow skier, and I enjoyed the springs and autumns there. But now my relaxation sport is boating. And there are so many more months out of the year to do it."
"I miss the seasons in Ohio, the snow at Christmas and the thousands of homes with Christmas lights," Susan remarked. "One of my favorite times as a child was waiting for snow to fall on Christmas Eve."
Mark emphasized that the Ohioans who move to the South are looking for a calmer, more relaxed way of life, which is exactly what they find.
"Recently I ran into a guy at a paint store," said Mark. "We realized that we're both from Ohio. I'm talking the same neighborhood and born in the same hospital. There are a lot of us here. Now that Susan and I have a guest room, plenty of friends and family visit from Ohio and talk about how they want to live here, too."
The Litricos found a house-hunting ally in Lowcountry Realtor Jane Miller. After renting a home temporarily, Mark was introduced to Miller through his business contacts, and she eventually helped the couple find their current home near Highway 41 in Mount Pleasant.
"The stress and unease of relocating to the area is real," Mark admitted. "But Jane made the process easier. We liked Mount Pleasant and knew we wanted to end up here."
Mark's business, a painting and pressure-washing company, has prospered in the Lowcountry. He said his success is a result of a combination of the South's hospitality and economic resilience.
"From what I can see, Charleston has taken the economic downturn fairly well," he said. "The business is booming, but it's not just the economic climate. People are willing to network and meet each other here. In Ohio, especially in the inner cities, you had to watch your back more carefully. I think the South attracts a certain kind of person – a people person."
Mark talked about how much he enjoys the Charleston area's many events, especially the Lowcountry Oyster Festival and the Southeastern Wildlife Exposition, as well as its cuisine and history.
"I could take one of those carriage tours downtown every day and learn something new," he said. "I think we've been on all of the tours, but we never tire of them. Charleston is fascinating."
Mark believes he was meant to end up on the coast, and finds the beach life rewarding.
"I'd never even been in the ocean before I moved to Charleston," he said. "Now I'm hardly ever away from the water."