A Peaceful Place at the Ponds
Ed & Andrea Castaneda's Recent Move to the Lowcountry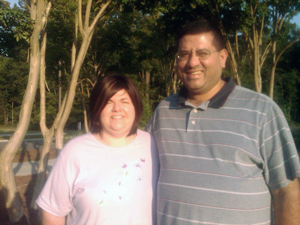 When it came to moving south, even Ed and Andrea Castaneda were surprised by their own complete lack of hesitation.
"We jumped right in, feet first!" Ed laughed.
"It's so unlike us," Andrea added. "We were never quite this spontaneous before. We thought of other locations to live - even the Virgin Islands - and suddenly Charleston popped into our heads, though we'd never been here at the time. So we visited in July of 2011 and shopped around for homes."
The Castanedas, originally from the small town of Marion, Ohio, both had worked in a government facility before they decided to pack up and move to the Lowcountry. Although they'd lived happily in Marion for many years and felt like it was home, they seized the opportunity for a lifestyle change after Andrea's position was terminated.
"Marion is a small town that used to thrive on industry but has quieted down considerably in recent years," Ed explained. "It's an hour's drive south from Columbus, which was convenient. But after growing up there, I was more than willing for something new."
The Castanedas found a cozy home located in The Ponds neighborhood of Summerville, South Carolina, right outside of Charleston. Local realtor Roy Parker assisted them in finding and purchasing the house.
"Roy took us to some newer developments, and we really liked The Ponds," said Andrea. "I grew up in a condominium development, and I appreciate the community vibe of this neighborhood. It's quiet and friendly."
"The greenery was also a huge selling point for us," said Ed. "When you drive into The Ponds, you encounter plenty of trees and even a lake - the natural beauty helps keep it from looking cold and commercial."
The Castanedas share enthusiasm for the Lowcountry and the opportunity to enjoy the East Coast.
"At home in Marion, we had to drive a good ways just to get anywhere interesting," said Andrea with a laugh. "Here, we are close to the beach, to Savannah and even to Orlando. Nothing really seems out of the question for a road trip."
Of course, the restaurant scene and bustling culture of Summerville and Charleston have kept them busy. "We adore the restaurants," said Andrea. "Ed loves seafood, so we go to Shem Creek in Mount Pleasant a lot."
"There's always something to do," said Ed. "Around here, if you say you have nothing to do it's because you don't want to do anything!"

Warning: include(): http:// wrapper is disabled in the server configuration by allow_url_include=0 in /home/zzuunnnw/public_html/relocating/south-carolina-neighborhoods/the-ponds-summerville-sc.php on line 90

Warning: include(http://www.mediaservices1.com/mods/FlipModGenerator.php?FM=19&w=200&h=138): failed to open stream: no suitable wrapper could be found in /home/zzuunnnw/public_html/relocating/south-carolina-neighborhoods/the-ponds-summerville-sc.php on line 90

Warning: include(): Failed opening 'http://www.mediaservices1.com/mods/FlipModGenerator.php?FM=19&w=200&h=138' for inclusion (include_path='.:/opt/cpanel/ea-php74/root/usr/share/pear') in /home/zzuunnnw/public_html/relocating/south-carolina-neighborhoods/the-ponds-summerville-sc.php on line 90